SAT-7 BOOTH DRAWS CROWDS AT CAIRO BOOK FAIR
For Immediate Release
SAT-7 BOOTH DRAWS CROWDS AT CAIRO BOOK FAIR
A Fun and Safe Outing for Families
Nicosia, 21st February 2012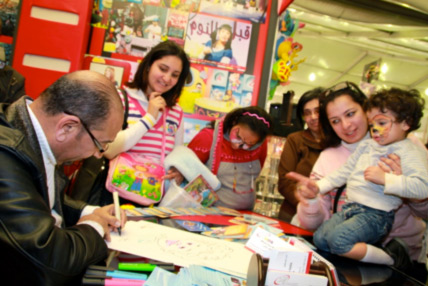 SAT-7 participated in the 2012 Cairo International Book Fair between 22nd January and 7th February. The 
SAT-7 KIDS
 channel also sponsored two special "KIDS days" with on-screen celebrities from the channel engaging with a large and happy crowd.
SAT-7 set aside two special days for children on 4th and 5th February-events promoted on the SAT-7 KIDS channel by Mr. Know from the program 
Why is That?
 Staff welcomed families to the SAT-7 exhibition with balloons, brochures, calendars and bookmarks. The booth boasted a bright banner portraying famous characters from the shows on SAT-7 KIDS. It was designed with a hole through which children could poke their faces – and take photos, as if they were actually standing with the characters. Kodak® sponsored the activity and printed photos on the spot – for free. Mounir Zackary from the show 
Caricature with Uncle Mounir
 was there to draw and autograph caricatures for the kids. A second booth was set up for free face painting. Crowds of excited children and parents from all religious backgrounds blocked the aisle and kept the two booths busy all day long. Adjacent booksellers and exhibitors also said that the crowds greatly helped their own business on those days!
In addition to the children's smiles, many parents gave positive feedback about SAT-7 programming. They expressed their love for SAT-7 channels and their gratitude for its ministry, especially mentioning the ground-breaking 12-hour live Night of Worship and Prayer on 11/11/11 and the New Year's Eve Worship from Tahrir Square. Parents shared that their children are watching SAT-7 KIDS all day long and that they are blessed with what is on screen. One mother described it as a trustworthy channel and the best-ever television channel for children. Recent independent surveys show that SAT-7 KIDS now has more than 9 million viewers across the region.
---
---